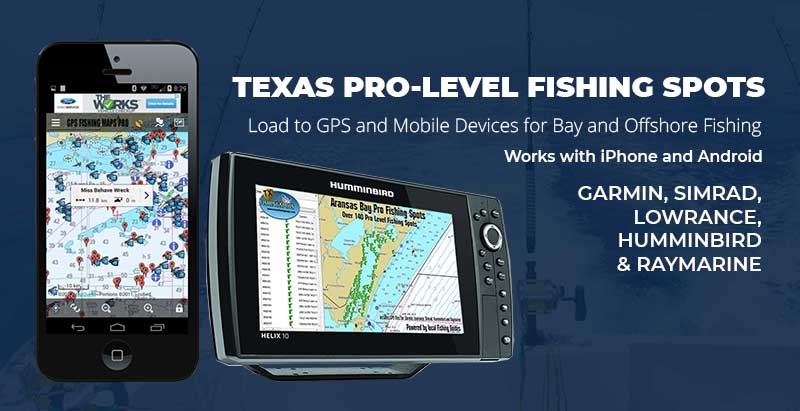 Texas Fishing
Fishing Spots
Coastal Texas fishing spots and GPS coordinates for inshore Bay and Offshore fishing, Texas Offshore Reefs, Wrecks, hard or natural bottom and Oil Rig fishing spots
Texas Offshore
Fishing Maps
Texas fishing spots for Offshore fishing
Texas Bay fishing spots for inshore saltwater fishing
All Fishing Spots work
with GPS and Mobile
All fishing spots work with GPS, Android, iPhone, Computers
Where do YOU want to Fish today?

    Simple "Copy and Paste" GPS files paste to blank SD Card for your GPS!

    Pre-loaded fishing spots SD Cards for your GPS available! Ready to load on your boats GPS.

    Quick service allows you to fish your new spots right away!

    Matching Mobile device fishing map file for iPhone and Android Devices!

    Google Earth file loads to the Google Earth App for Mobile devices and computers

    Matching PDF GPS Coordinates list in Lat/Long for your fishing area

  Use your Mobile device as a fishing GPS for trip planning

    Fish are being caught on our fishing spots this season!

    Read guide comments on most Fishing Spots. (most comments transfer to your GPS!)

    When shopping for "real" fishing spots, be sure you see our blue oval logos at top of any page

    See everything that comes with a purchase and how it works here,
Get some of the best Texas fishing spots and with GPS Coordinates and fishing locations from guides and top fishermen on the Texas coast. Own our professional Texas Bay fishing spots and offshore fishing spots including many productive oil rig fishing spots. Import our included GPS files to your boats GPS using an SD card, and use our fishing spots with Google Earth or other GPS Apps on your mobile device. Easy to use GPS files with fishing spots are included for Garmin, Simrad, Raymarine, Humminbird, Lowrance and Furuno TZ Touch GPS models. Copy to your own blank SD card, or have our fishing spots loaded to an SD card for your GPS and mailed to your front door! See more about GPS SD cards here.
Use your fishing spots on the water and off the water! Our included files can be  used as fishing trip planner to see fishing spots locations, comments on fishing spots and more using your computer, Android, Droid, or iPhone,. Our files work with several mobile GPS apps. See how it works and what's included. Shop and choose your favorite fishing locations and see see available Texas fishing spots  Also enjoy detailed fishing charts for most mobile devices.