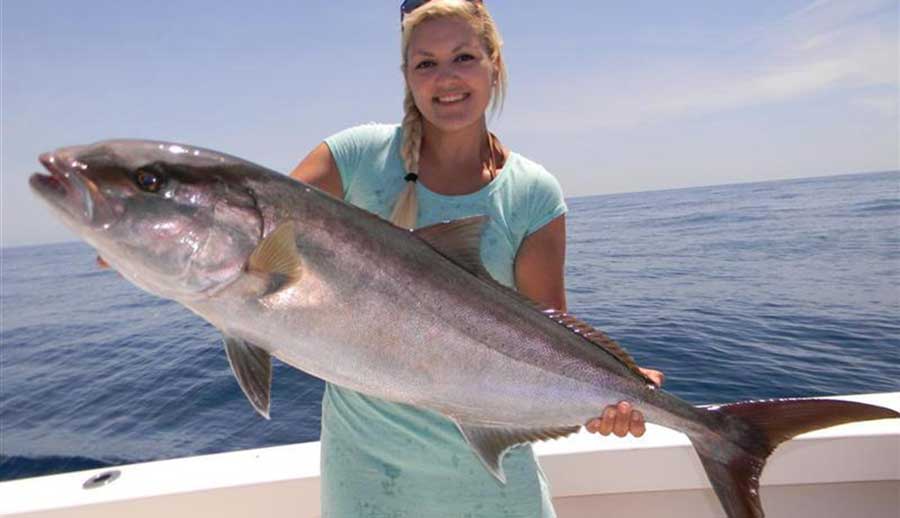 Matagorda to Corpus Christi Offshore Fishing Map and Fishing Spots loads directly to your boats GPS using an SD Card, and loads to all your Mobile Devices using our included files with any purchase. Use Corpus Christi to Matagorda Fishing Maps with GPS, iPhone, iPad, Android, Droid and Computers! Fishing spots coverage includes fishing spots and oil rig locations for offshore fishing from Port Oconner, Port Aransas Offshore fishing, Matagorda Island, Mustang Island offshore fishing and San Jose Island Island offshore fishing. Hit the water this season armed with over 230 Fishing Spots provided by our secret weapon..Our Fishing Guides! We work closely with several top, local guides along the Texas coast, keeping us far ahead of competition in many ways, and bringing you the best fishing spots available anywhere! See how it works and what comes with any purchase here.
Whether you like Bottom Fishing, Trolling or Drifting, our guides have precisely placed countless top selected Offshore Fishing Spots and Fishing hot spots for offshore fishing from Matagorda to Corpus Christi Texas, out to 50 miles offshore. Our fishing spots mark areas of live bottom, natural and hard bottom, reefs, wrecks, ledges, debris piles and more. Also, many of the best Offshore Artificial Reef Coordinates off Corpus and Matagorda Island are included for your reference and convenience, or in case your GPS has crashed or you may be loading your GPS for the first time… you'll have a complete map with oil rigs and the best fishing spots money can buy when your purchase any of our Texas Fishing Spots Maps. (Purchase at bottom of this page)

Enjoy our exclusive "Nautical View" Fishing Chart overlay for Google Earth Mobile and Computers! Included at no extra charge with any offshore fishing spots map purchase from this website. See information on our "Nautical View" Fishing Chart  overlays for Mobile Devices and computers. View ocean bottom contours, depths and more! See an example of Nautical View by GPS Fishing Maps in the Google Earth Image below for Mobile use and computer views! Load all our spots to your GPS using a simple SD Card! Any of our Fishing Spots locations include simple "copy and paste" to SD Card files for your GPS. These GPS files are provided for all major band GPS models. Our Texas Fishing Spots Maps files work with Garmin GPS, Lowrance GPS, Simrad GPS, Raymarine GPS and Humminbird GPS models that accept an SD Card.See more about what comes with a purchase and how it works here. Use our Corpus Christi to Matagorda Fishing Spots with Google Earth, iPhone, iPad, Android or most any Mobile Device that has GPS. Also includes our simply copy and paste GPS files that import directly to your GPS using your SD card. (All Files are Included) Looking for the Matgorda or Corpus Bay? Find the Matagorda Bay or Corpus Christi Bay Fishing Maps Here See the Matagorda to Corpus Christi Fishing Map images below with fishing spots loaded directly to a GPS and Google Earth. GPS Map views will vary depending on your GPS base map and GPS model. The spots shown are the actual fishing spots for this area loaded to a GPS.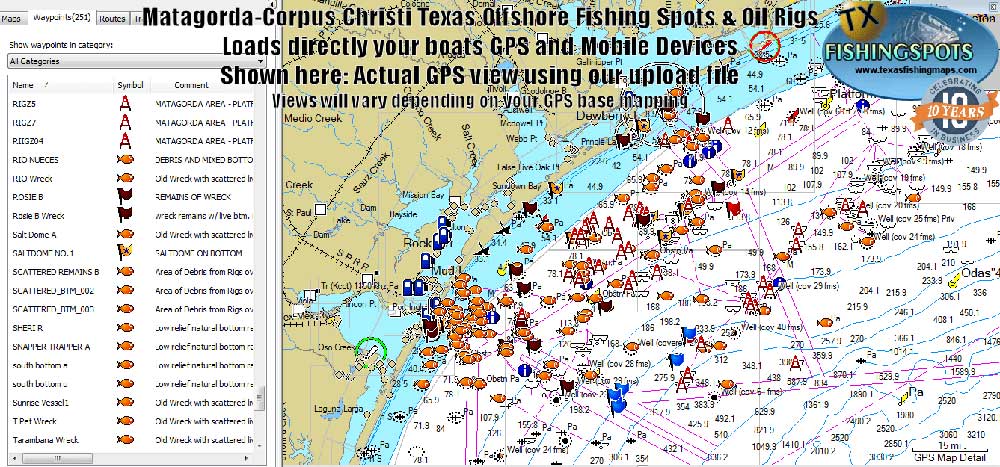 Our label matched fishing map system is very unique offering fishermen some of the best digital information available. The files included with this Matagorda and Corpus Christi Offshore Fishing Map purchase include the following.
Matagorda to Corpus Christi Offshore GPS Coordinates Upload and Import File for your GPS. We offer waypoint upload files in each area offered for late model Garmin, Raymarine, Simrad, Humminbird, and Lowrance GPS models that accepts an SD Card
Matagorda to Corpus Chirsti Fishing Map Google Earth Map with Nautical View Fishing Chart overlay for using your fishing spots on your home computer, iPhone, Android, iPad and Computers. See more about Mobile use
Matching Labeled Printable GPS Lat/Lon Coordinates for your fishing spots that will work with any GPS in the world.
Advanced Fishing and Rigging tutorials for your purchased fishing map composed by some of the best Fishing Guides and Pros on the Texas Coast, Inshore and Offshore.
Your Fishing Map information files are conveniently emailed to you the same day of purchase in ZIP format to get you on the water immediately! Save your GPS upload file to your own SD card, then import the file to your GPS!
Pre-Loaded to SD Card available for Garmin, Lowrance, Simrad, Raymarine and Humminbird. Contact us here after purchase if you would like to have your spots preloaded to SD Card and mailed to you!
Corpus Christi GPS Fishing Map –

$89.99
As Always, Purchase Securely and with Confidence from any of our sites. We're a 15 Year Verified Secure and Trusted Seller
with 100% Positive Seller Feedback and 5-star product rating in the Merchant arena. See our secure Verification.
Corpus Christi to Matagorda Fishing Spots and other Fishing Maps on this site and Texas Fishing Spots are provided exclusively by The Coastal Fishing Group, LLC. Feel free to use our super fact contact form with any questions about fishing spots maps, purchases, fishing help or general information of any kind pertaining to this site. Fish on! —- Dana King, G.M. – GPS Fishing Maps Co.