Laguna Madre Fishing Maps –
Lower Laguna Madre Fishing Spots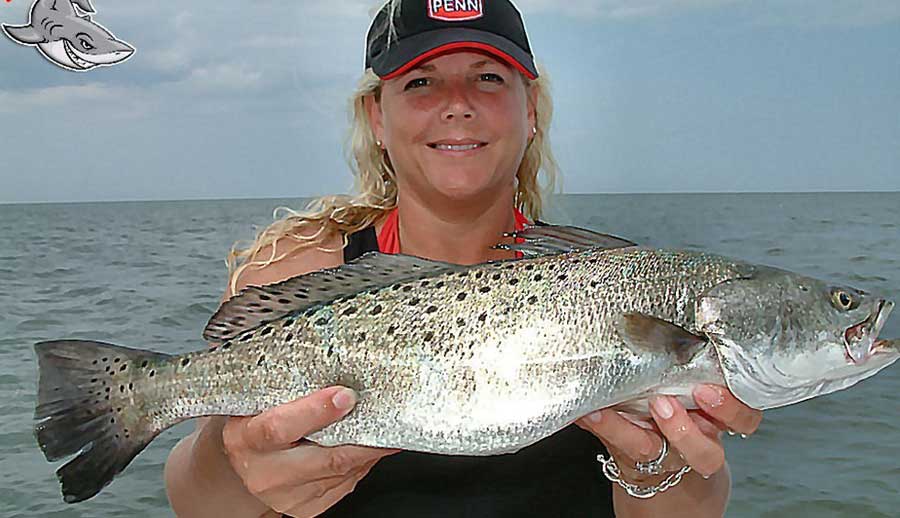 Laguna Madre Fishing Spots for GPS or Mobile Devices! See our Fishing Map sample images below for accurate fishing spots coverage for this fishing location. Import our fishing spots to a GPS using an SD Card, or use our included Google Earth file with your mobile devices or your home computer! This included files opens from the email we send to you with the free Google Earth App on your Phone or Tablet, and several other GPS apps we reveal after purchase. Use your mobile device as a secondary fishing GPS to help you locate the fishing spots on the bay and read guide comments on most spots! Our Fishing Spots are 100% proven to help you catch more fish, save time and money. We've taken a lot of the "work" out of saltwater fishing because these spots are accurate and verified, brought to you by the some of the best guides in the business!
PRE-LOADED GPS SD CARDS ARE AVAILABLE! Get these fishing spots loaded to an SD Card for your GPS model mailed to your front door! Learn more about preloaded SD cards here!
Lower Laguna Madre Fishing Map – Laguna Vista to Lower Baffin Bay Fishing Map – The Map image below shows the Lower Laguna Fishing Spots (spots run from B-Ville jujst below Baffin Bay) loaded to a GPS using a blank SD Card and our copy and paste GPS files. Import and of our Texas saltwater fishing spots to Garmin, Lowrance, Humminbird and Simrad, Raymarine and Furuno TZ touch GPS models that accept an SD card – – (Note Mesquite Rincon Shallows Excluded – See Map Images Below)  Click to see the Upper Laguna Madre Fishing Map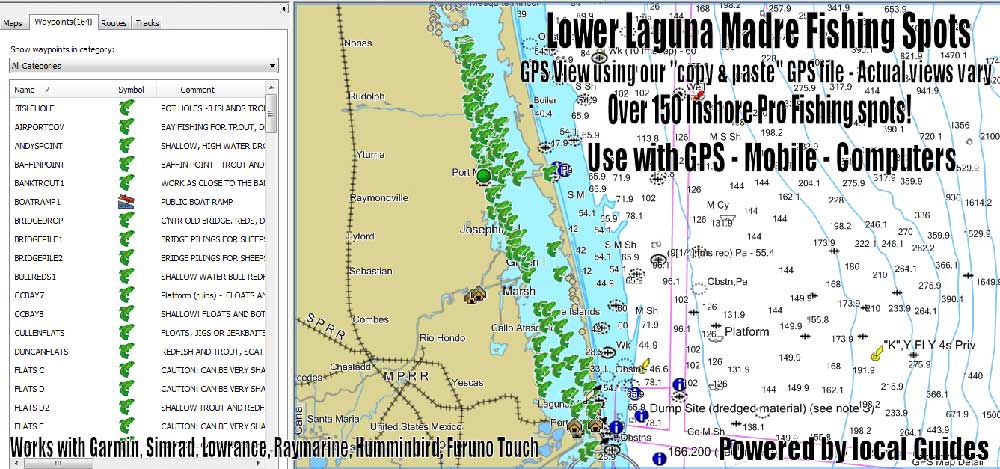 Lower Laguna Madre Texas Google Earth Fishing Map – Our Lower Laguna Google Earth Fishing Map and Fishing Spots now comes with Texas NOAA Nautical charts built in! This included Google Earth file loads to your computer, iPhone, iPad or Android Device. Use Google Earth and other GPS apps that accept this file type to transform your Phone or Tablet into a Fishing GPS.  See the Upper Laguna Madre Fishing Map here
Our label matched fishing map system is very unique offering fishermen some of the best digital information available from our team of local guides. The files includes with any purchase include the following, no matter which fishing map location, inshore or offshore. Upper Laguna Madre Fishing Map is found here
Laguna Madre GPS Coordinates Upload File for your GPS. We offer waypoint upload files in each area offered for late model Garmin, Raymarine, Furuno, Humminbird, Lowrance, Sitex and several other name brand GPS Systems
Laguna Madre Google Earth Fishing Map for viewing your fishing spots on your home computer, iPhone, Android, iPad, Tablets and many others. Use your Phone or Tablet as a Fishing GPS!
GPS Coordinates List for the Lower Laguna Madre for manually entering your fishing spots (if needed) into any GPS in the world.
Advanced saltwater Fishing and Rigging tutorials for your Laguna Madre Fishing fishing map composed by some of the best Fishing Guides and Pros on the Texas Coast, Inshore and Offshore.
Lower Laguna Bay Fishing Spots –

$69.99
As Always, Purchase Securely and with Confidence from any of our sites. We're a Ten Year Verified Secure and Trusted Seller
with 100% Positive Seller Feedback in the Merchant arena. See our secure Verification.