Texas Fishing Spots and Fishing Maps –
The Best set of Fishing Tools Since the GPS was Invented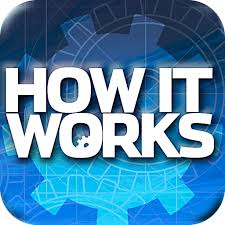 As the original online source for top fishing spots, the Coastal Fishing Group and the GPS Fishing Map Co. was the first digital fishing spots and Fishing Waypoint development companies to offer fishing spots from an organized internal network of guides, TV show hosts and pro tournament fishermen alike. Our products are compatible with nearly any name brand mobile device and GPS or Chart Plotter in the World. We've been number one in the digital Fishing waypoint business for over ten years running offering this format in nine coastal states.
Same day email delivery! It's a digital world and we have taken advantage. These unique formats below are ALL included with any of our Fishing Spots Maps from any of our websites. The following product data and files seen below on this page will be emailed to you the same day your purchase to get you on the water right away! (We also offer preloaded SD Cards for your GPS!)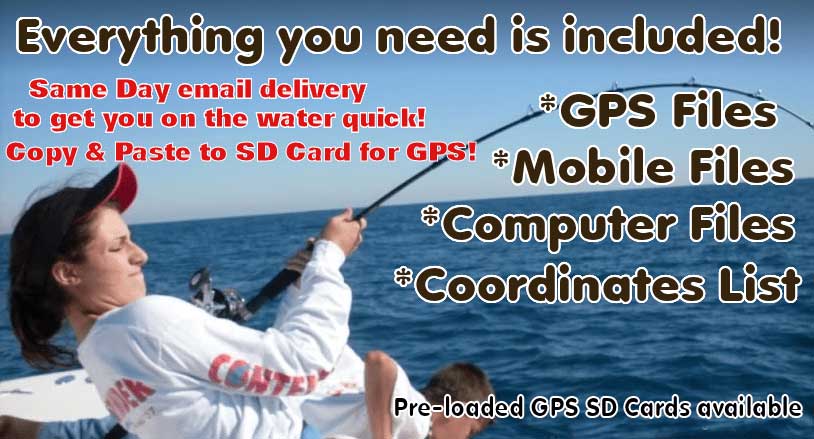 What comes with a Texas Fishing Spots Map Purchase?
Our files work with nearly any device that has GPS these days. Over the years, we've perfected our fishing maps and files for easier setup and simple use. Below, you can read what comes with each and every fishing spots area we offer. All fishing spots names and labels are "Matched" so switching between devices is easier and the spot names all match. The names of the fishing spots are also name matched in your included printable lat/long file mentioned below. Everything below is included with any purchase, in any location, in any state. Everything below is included with any Purchase!

Texas Fishing Spots Maps for Mobile Devices
Google Earth Fishing Map File for Mobile Devices and Computers. Opens from the email we send for immediate use! This is not an app… it's a specially designed file that works the Google Earth App and other GPS apps. Instructions will be included for IOS, Android. Or, you can use this file with Google Earth on your Computer. Many fishermen use their mobile device as fishing GPS to look at their spots as a fishing map and to assist in finding spots. Remember, A mobile device is not a replacement for a marine GPS, but makes a great secondary GPS or trip planning tool. This file has matching names, comments and labels to co-exist with your other files and matches the included GPS coordinates list.. Sweet! Click here to see a short video of our fishing maps loaded to a Mobile device! 
BUILT IN NOAA NAUTICAL FISHING CHARTS – Offshore Fishing Spots are now sent with our "Nautical View"®! Our exclusive new Fishing Chart overlay for all mobile devices using the free Google Earth app and several other GPS apps as well! See more about our Mobile Fishing Spots Maps files here.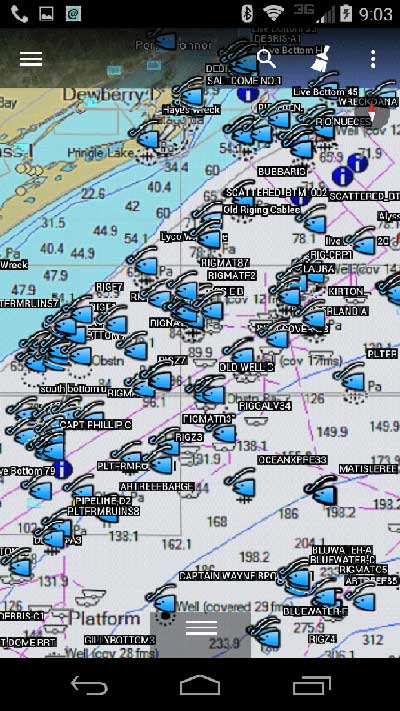 Texas Fishing Spots for Marine GPS & SD Cards
Marine GPS Import/Upload Files that work with Garmin, Lowrance, Simrad, Humminbird and Raymarine GPS models that accept an SD Card. This very easy to use copy and paste GPS to SD Card file is included with any purchase for the brands above.
Most GPS units and Chart Plotters accept different waypoint formats. This product works with the late model GPS or Plotters listed below using an SD Card or Micro SD card. Use a blank SD card between 2GB and 32GB to import all your purchased fishing spots with just a few clicks using our simple "copy and paste" GPS files and a windows computer. Warning! Never use your Navionics or any other map cards for this process. You can safely reinsert your map card (if you have one) after you import our file. The spots will work seamlessly with any other mapping on any marine GPS device brands named below.
Will this work with my GPS?
Files copy and paste to a blank SD Card for the following GPS models: Garmin GPS (all Garmin that accept SD Card), Simrad (All Simrad SD Card models), Raymarine late model and all touch screen models ONLY (no A, C, E, or C/E-Wide models. Sorry, no exceptions) – Humminbird GPS including Helix and all other SD Card models) – Lowrance HD, HDS, Elite. Lowrance Hook and all other Lowrance GPS that accept SD cards.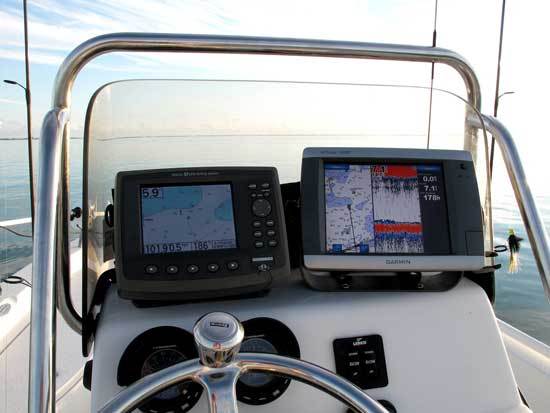 Get it loaded to an SD Card for your GPS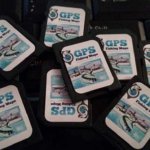 Preloaded SD Cards ready for your GPS! Want your fishing spots pre-loaded to an SD Card for yours? We offer preloaded SD Cards for your GPS! The proper SD card for your model will be preloaded and mailed to your front door. This includes priority mail and insurance on sale, now only $19.99 in addition to your fishing spots purchase!  How and where to get a pre-loaded SD Card – Add your chosen fishing spots to the cart first from this website, then once added to the cart, scroll down just below your cart items to see the SD card for your GPS. Simply add the SD Card for your GPS model to your order and you're all set!

GPS Coordinates List in Lat/Long
Matching List of GPS Coordinates: Our included fishing spot name matched, printable coordinates list is included with any purchase for manual coordinates entry into any models or brands that do not accept an SD card. This file is conveniently included with any purchase and is found within your emailed zip file. See what the list looks like in a sample of our GPS Coordinates list in Lat/Long format here.

View Comments on Fishing Spots
View Comments on most all of our Fishing Spots using Google Earth. Some comments may also transfer to your GPS depending on how many characters your GPS comment box will accept. See a sample of Fishing Spots comments here.

How to Fish and Rig Tutorials
Fishing and Rigging Tutorials: That's right, we send you fishing and rigging tutorials to match your purchased area(s). Whether you purchase Bay and inshore trout and redfish fishing spots or Offshore Trolling and Oil Rig Fishing spots, we send matching tutorials to assist with your fishing game!  These are included at no extra charge and will be conveniently included in your emailed zip file.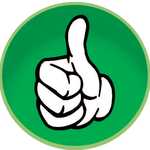 Our products are easy to use and Fast to setup! Although our Fishing Map system is very easy to use, it does require basic knowledge of computers and mobile devices to load and setup from the email we send. Set up on Mobile takes less than 5 minutes. Loading a file to your GPS from an SD Card takes less than 3 minutes. Stop typing in GPS coordinates manually, burning fuel and looking for good fishing spots.. Get yours today!
Tight Lines and Good Fishing to All!
Fast Reply! For a speedy reply, contact is using our quick contact form found here for fastest response to your questions!