Galveston
Bay GPS Fishing Spots Map
Galveston Bay fishing spots and GPS coordinates provides fishermen with the best fishing map available with over 275 top fishing spots across Galveston Bay covering over 50 miles of shoreline. Fishing spots coverage includes Galveston Bay, Trinity Bay Fishing Spots, East Bay Fishing Spots, West Bay and Christmas Bay Fishing spots. Our Galveston Bay GPS fishing spots are integrated into a single fishing map for incredible fishing spots coverage. Remember, our product eliminates the need for paper fishing charts by providing easy to use fishing maps for your GPS and mobile devices. Use or view these fishing spots on the water, at home or on the go!
The Galveston Bay fishing spots is a number on best seller. Here's why.. These spots are precisely organized by local guides to bring you the best fishing locations on any fishing map available for fishing in coastal Texas. Load up our top spots for Speckled Trout Fishing, Redfish Fishing, Flounder Fishing, Black Drum Fishing and more!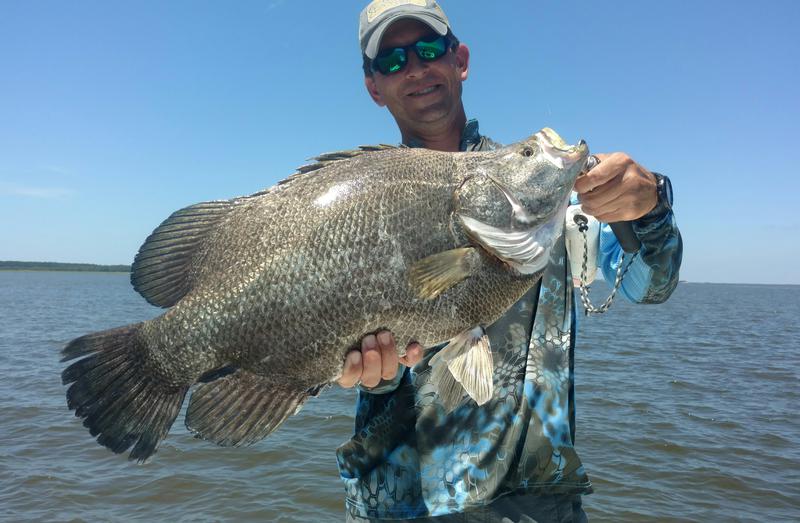 Top fishing spots with comments! The Galveston Bay fishing spots loads to most late model GPS brands using an SD card. Load it yourself in minutes or have it loaded to an SD card and mailed to you, see more about this below. Also, use our spots with your mobile devices with Google Earth and other GPS apps on Android mobile devices, iPhone, and your computer. See how our fishing spots work.
Galveston Bay fishing spots for GPS! Are your tired of entering GPS Coordinates? Your need GPS fishing spots. Our included GPS files contain fishing spots that are compatible with Garmin GPS, Lowrance GPS, Raymarine hybrid/touch GPS, Simrad GPS and Humminbird GPS Models that accept an SD Card. Note: GPS Map views will vary depending on your GPS make, model and age.

PRE-LOADED GPS SD CARDS! Get these fishing spots loaded to an SD Card for your GPS model mailed to your front door! Learn more about preloaded SD cards here!
Galveston Bay GPS fishing map for mobile devices. Use our included fishing map file works with Google Earth for iPhone, Android and computers using the free Google Earth App and other GPS apps. Use your phone as a fishing GPS, or use as a fishing trip planner to assist in finding your fishing spots and reading guide comments on spots! You will enjoy enhanced viewing using included Galveston Bay NOAA nautical chart built into this file for the latest in marine mapping detail in most fishing areas. This aspect of our product eliminates the need for a paper fishing chart or paper fishing map for good.
Map samples – Below, see example views of the Galveston Bay spots loaded to Google Earth below. All the spots shown in the images are included! The integrated NOAA nautical chart works on many devices and all computers with Google Earth. These and marine GPS views will vary greatly depending on your devices brand and age.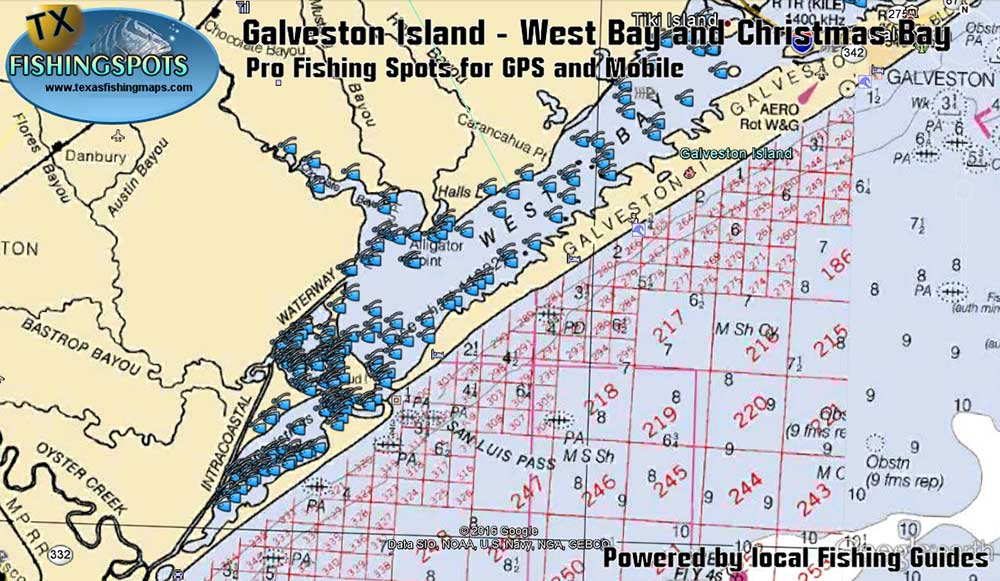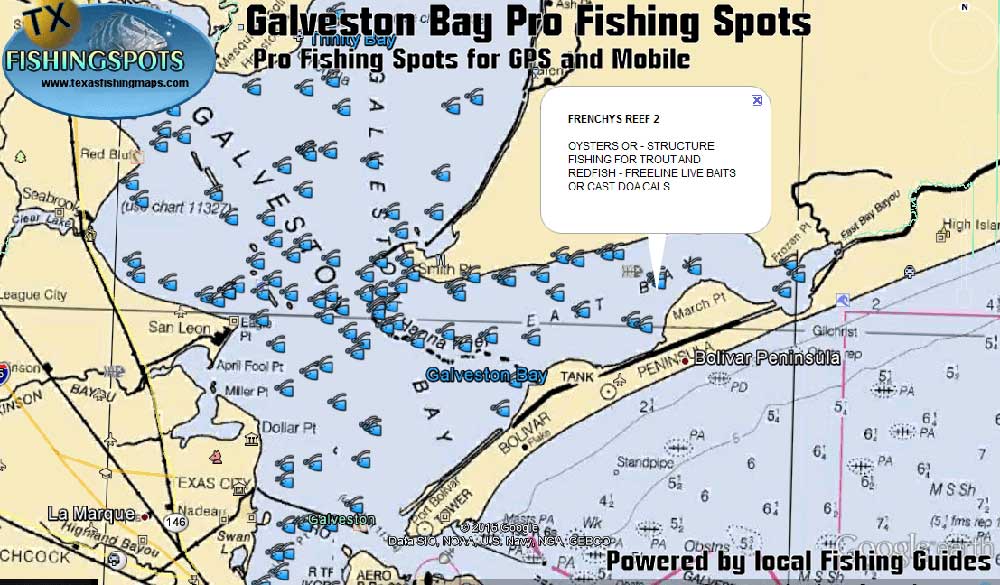 What do I get with my purchase? Our label matched fishing map system is very unique offering fishermen some of the best digital information available. The files includes with a Texas fishing map purchase include the following, no matter which fishing map location, inshore or offshore. See what comes with it and how it works
GPS import file for your GPS. Simply copy our GPS file using a computer and blank sd card!
Detailed Instructions and help videos for those who need it.
Mobile and computer file for viewing your fishing spots on your home computer, iPhone, Android, iPad, Android and more.
Matching name labeled, Printable GPS Lat/Lon coordinates for any GPS in the world.
Advanced Fishing and Rigging tutorials for your purchased areas.
Your Galveston Bay Fishing Map information files are conveniently emailed to you the same day of purchase to get you on the water immediately!
GPS SD cards available. Get these fishing spots loaded to an SD Card for your GPS model mailed to your front door! Learn more about preloaded SD cards here!
Galveston Bay Fishing Spots Pro 

– $99.99
As Always, Purchase Securely and with Confidence from any of our sites. We're a 14 Year Verified Secure and Trusted 5-star rated Seller
with 100% Positive Seller Feedback in the Merchant arena. See our secure Verification.
What can I catch with the Galveston Bay fishing spots? Fish for Trout, Redfish, Drum, Flounder, Sheepshead and other saltwater fish that inhabit this beautiful Texas bay. Feel free to contact us  anytime with any questions about fishing spots and locations, purchases, fishing help or general information of any kind pertaining to this site..
Get in touch with Texas Fishing Spots – For lightning fast responses to your questions, please use this quick contact form. Possibly even faster is direct email which you can also send anytime at the following address support@texasfishingmaps.com