IMPORTANT Please read first: Please understand Navigating and knowing how to use your GPS is important for safety, and it's a must. We do not offer any service to help learn your GPS and its functions. However, we do provide our fishing spots in the proper format for you with perfected installation instructions. Don't know how to use your GPS? Please seek help for operating your GPS from your local West Marine, Bass Pro Shops or other local dealer that offers your GPS model. They can give you "hands on" help to assist with actually using your GPS..
See instructions below to load your own SD Card with your new Fishing Spots!
GARMIN HAND HELD GPS Instructions
Garmin Handheld Models including Garmin 78 and Garmin 78sc, Garmin Oregon, Garmin Etrex 10, 20, 30
If you own a Garmin Handheld GPS, it can simply be plugged into your computer using the cord (or cell phone cord that fits) and plugged into the USB port on a windows computer, then follow the 'how to load' instructions in the very next paragraph.
HOW TO LOAD WAYPOINTS TO MOST GARMIN HANDHELD GPS – Right Click and "copy" your GPSUPLOAD.GPX fishing spots file found inside the zip file we emailed to you. Now, simply Plug your Garmin Handheld into your windows computer's USB port. Then your computer asks "what would you like to do", At that point, simply click on "open folder to view files". Then, open the Garmin Folder. Then simply find and open the GPX folder, the right click and select "paste". This will place your GPSUPLOAD.gpx file into the GPX folder of the handheld. Always load one file at a time if you have multiple area files. After this, simply close the Garmin window, unplug the GPS, You're Done and the spots are there!
Garmin GPS Map Instructions for in dash/mounted SD Card Models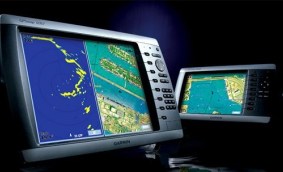 Step 1: You MUST have Garmin Homeport to perform this task. Download the FREE Garmin Homeport Software from Garmin at the following link FIRST: Get my Free Garmin Homeport Software
Step 2: Save the GPSUPLOAD.gpx file found inside the zip file we emailed to you. Save on your computers desktop or download folder for easy access because you'll need it shortly. If you purchased more than one area, you'll repeat this process of needed to load additional area files.
Step 3: Watch the video below for STEP BY STEP instructions to get your SD Card loaded with your new fishing spots. Pause the video if needed, and follow along. This process should take around 5-7 minutes, or less to complete.
Step 4:  AFTER you watch the video and perform the SD card import task, then click here to get instructions on loading your SD card into your GPS.
Garmin Homeport MUST be used with all SD model Garmin GPS including; 441, 445, 500, 525, 545. 700, 740, 741s, 840, 1040 series, 4000 series, 5000 series, 7000, 8000 series and others that accept an SD card.
Warning: We do not offer Navigation maps on this website. We offer only Fishing spots which should not be used for actual navigation purposes as they only pinpoint a single area. They do not navigate your course over the water as you travel. This is the job of your GPS and its detailed Mapping of the area you fish. Navigate to fishing spots at your own risk and skill level as many obstacles are found in between spots. You should seek the help of a local Guide if you are unsure of your boating skills or not familiar with your GPS, boat or other navigation equipment. Fun does not come first.. Safety comes first on the water and fun quickly follows along with catching some quality fish! — Thank you for your business and loyalty. Dana King—
Have fun and be safe on the water! – – – –
— Dana King, Software Advisor/Mapping/Waypoints/Google Maps Environment—-
Please email with any questions, at gpsfishingmaps@gmail.com