Using our Fishing Spots with Android Phones and
Tablets with Google Earth or Locus GPS FREE!
NOTE: CHOOSE AND GET YOUR APP FIRST BEFORE OPENING THE GOOGLE EARTH FILE, YOU ONLY NEED THE GOOGLE EARTH FILE(s) FOR EITHER APP YOU CHOOSE. WE SUGGEST DOWNLOADING BOTH APPS, ESPECIALLY GOOGLE EARTH… Our spots work really well with Google earth and the chart overlay is far more clear and defined, but if you would like more GPS options for navigating, see the link to get Locus GPS on your device below. Once you have downloaded either or both of these Apps to your Mobile Device, the Google Earth file will load to either App right from the email attachment we sent to you. If you're viewing and using this page, you should be using your Android/Droid mobile device only for this process.
LOAD IT TO
GOOGLE EARTH AND GO!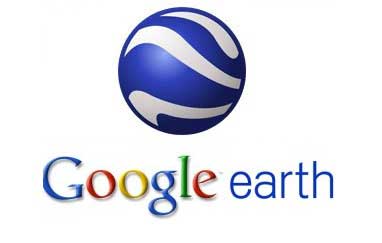 Use our Google Earth file for navigating and viewing your new fishing spots on your Mobile Device right now! Google Earth is an excellent tool for viewing your fishing spots at anytime. See comments on fishing spots or lobster spots, or use as a tool to help you decide where to fish that day.
Once installed, on your Mobile device, go to your email. Find the email we sent to you.
From the email attachments we sent, tap the GOOGLEARTH attachment and open with options appear. Select Locus Free as shown in the left screenshot below, and your purchased fishing area will open with the App.
Now pinch to zoom in then tap on a spot as seen in the middle screenshot below. The spot info will appear.
Tap the arrow on the right side of the info tab as shown in far right screenshot, then tap "Navigate to"
GO FISHING! Have fun, LEARN YOUR APP and be safe! See more info below.
Very Simple Instructions to load our Google Earth File to
the Locus GPS Free App
You will need ONLY the Google Earth file named GOOGLEARTHYOURAREA.kml and it's found attached to the email we sent to you.
LOAD IT TO
GOOGLE EARTH AND GO!
We do not own or maintain this App, we only suggest it to our users..
Your screen may or may not look like the one on the left when all your spots are loaded. You can set your icons and many other options as well.
IMPORTANT: The nautical charts overlay found within our Google Earth Files are not for 'true' navigation. They have been placed to give you an "idea" of the depths around your spots and nautical viewing. Using the advanced options within this App is solely your responsibility to learn as the methods vary greatly between devices and Android software versions making instructions nearly impossible to provide for everyone. Thank you.
Locus GPS Free is a top 5 GPS App and its free. This is a superb app for looking at and finding fishing spots in coastal waters. Use any of your fishing spots and any app at your own risk with any App or GPS. Boating can be dangerous, especially in unfamiliar waters. Remember, this is not a navigation app, nor should it be used for safe guidance. A Marine GPS or Chartplotter should be used for precise navigation.
We do not own this App, nor do we claim any rights to it. We only suggest this App as an alternative to Google Earth. Please use this App and Install on your device at your own risk. Any updates or requests for info about this this App should be directed to the creator/owner of the App, not GPS Fishing Maps.
LEGAL NOTE: Navigation is properly done with a GPS Map, and experienced user at the helm of any vessel using our Fishing Spots or any suggested Apps associated with any of our Websites. Also, remember your new Fishing Spots are only spots. They do not assist you with navigating waters in any way. You are 100% responsible for your on the water navigation. We are not responsible for your safety in navigating with any device, in any way, for you, your person(s), property, damages or otherwise that may occur in association, in any way, of any kind with any fishing spots purchased from any of our websites in any Venue.
Thank you all and please be safe out on the water. Fish on.. Rock on!