Upload your Fishing Spots to your Phone or
Tablet for GOOGLE EARTH
VERY IMPORTANT NOTE: We recommend using "True" GPS Apps for using and viewing our Google Earth Fishing Spots Files. There are many free or very low priced Apps on the Mobile Market Place for Android and Apple Devices that will load our Google Earth.KML files found inside your emailed zip file. Click here for recommended Google Earth Android GPS Apps | Click here for recommended Google Earth iPhone/iPad GPS Apps
If you must use Google Earth on your Mobile Device, below you'll find the instructions provided as of this date, although support is limited for the Google Earth App due to its inconsistent options over a wide range of Mobile Devices.
iPhone, iPad, Android, Google Play, Tablet –  Fishing Spots upload Instructions, READ CAREFULLY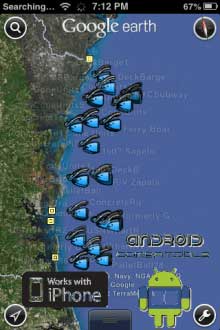 USING/VIEWING YOUR FISHING SPOTS WITH THE GOOGLE EARTH APP: SOME DEVICES MAY NOT SUPPORT FILE LOADING TO GOOGLE EARTH. SEE THE NEXT SECTION BELOW FOR A BETTER OPTION. Many modern phones and tablets have the capability of using the latest Google Earth App from the Play Store, or the App Market. However, functionality is limited when using Google Earth as a GPS.
Click here to see how to load your new Fishing Spots to Google Earth on your Phone or Tablet.
"TRUE" GPS NAVIGATION APPS FOR YOUR MOBILE DEVICES – For "true" GPS Fishing and Navigation Apps for your phone or tablet to use on your boat, please skip this and read the section above. We HIGHLY suggest clicking the links above this section instead of using Google Earth to get you on the water right away without the use of a computer to load them to your Mobile Device.